Buildings & Bedrock: Effects of amplification & liquefaction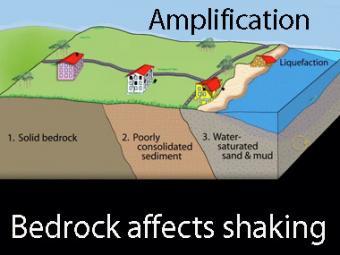 How will 3 buildings, engineered equally, on different bedrock react to an earthquake?
Highly generalized animation reflects the arrivals of P, S, and surface waves to 3 closely spaced buildings. Exaggerated movement of the buildings reflects the relative motion recorded by the seismograms. The 4th building on the beach shows the effect of liquefaction of underlying sediment. Animation ends with actual seismograms from buildings on solid bedrock and sediment fill equal distance from the 1989 Loma Prieta M7 earthquake. Original music by Jesse Gay, Portland OR.
CLOSED CAPTIONING: A .srt file is included with the downloiad. Use appropriate media player to utilize captioning.
Keypoints:
Seismic waves travel through different materials at different speeds
Seismic waves travel through different materials with different amplitudes
Bedrock has high-frequency low-amplitude waves (less destructive)
Sediment has low-frequency high amplitude waves (more destructive)