GPS Measures Deformation in Subduction Zones: Ocean/continent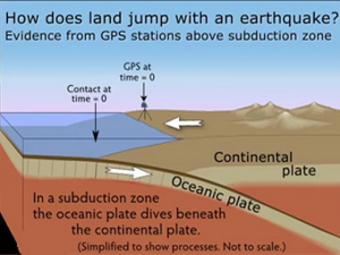 How Does Land Jump in an Earthquake?
This animation shows that GPS can record the movement of the leading edge of the overlying continental plate in a subduction zone. The plates are locked and the overlying plate is forced back. When friction is overcome and strain is released, the GPS receiver will snap back toward its original position. This animation is exaggerated to depict the relative motion of plates and GPS as seen in the 2010 Magnitude 8.8 earthquake in Chile where the land in places rebounded 10 meters.
CLOSED CAPTIONING: A .srt file is included with the downloiad. Use appropriate media player to utilize captioning.
Keypoints:
Modern GPS measure incremental movement of Earth's surface

In a subduction zone plates are locked together

The overlying plate is pushed back due to friction, deforming & building stress

When stress is overcome, a megathrust earthquake occurs

Megathrust earthquakes commonly produce tsunamis