Volcano Monitoring: Volcanic Earthquakes
Novice Spanish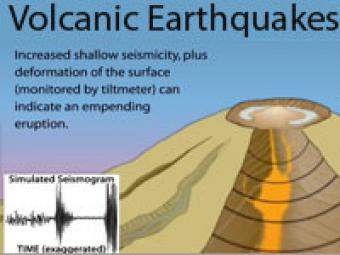 What do earthquakes tell us about a volcano?
Earthquake activity beneath a volcano almost always increases before an eruption because magma and volcanic gas must first force their way up through shallow underground fractures and passageways. When magma and volcanic gases or fluids move, they will either cause rocks to break or cracks to vibrate.
CLOSED CAPTIONING: A .srt file is included with the downloiad. Use appropriate media player to utilize captioning.
Keypoints:
Earthquakes serve as an early warning sign for impending eruption
Earthquakes can be used to locate subsurface magma
Volcanic tremor is a long-lasting rhythmic shaking that can last minutes or days