Alaska: The Great Alaska Earthquake of 1964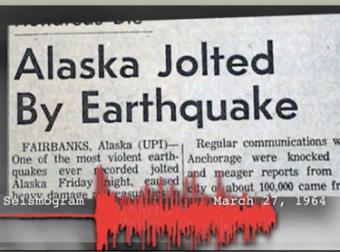 What were the underlying causes?
The 1964 Great Alaska Earthquake occurred on Good Friday, March 27th. It rocked the state with strong ground shaking for 4.5 minutes. Liquefaction in and around Anchorage tore the land apart. At magnitude 9.2, it was the second largest quake ever recorded by seismometers. Only 9 people died from the earthquake, but 130 died from the subsequent tsunami; 10 as far away as Crescent City, CA. This animation shows the underlying causes of that subduction-zone mega-thrust earthquake, and tells how research done on the ground deformation shortly after the earthquake by George Pflaker, US Geological Survey, and colleagues contributed to confirmation of early theories of plate tectonics.
CLOSED CAPTIONING: A .srt file is included with the download. Use an appropriate media player to utilize captioning.
Keypoints:
The Great Alaska Earthquake is:
The second largest earthquake ever recorded
A subduction-zone megathrust earthquake
A tsunami-generating event