Fault: Oblique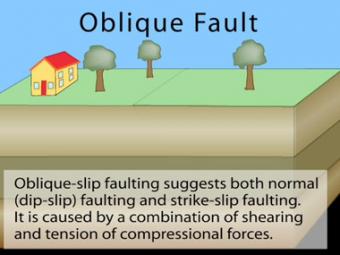 What is the motion that is halfway between a normal fault and a strike-slip fault?
This left-lateral oblique-slip fault suggests both normal faulting and strike-slip faulting.
This is caused by a combination of shearing and tension or compressional forces. Nearly all faults will have some component of both dip-slip (normal or reverse) and strike-slip, so defining a fault as oblique requires both dip and strike components to be measurable and significant.
Objectives:
Oblique faults can be normal or reverse
Oblique faults have a strike slip component also
Most faults have an oblique component
Keypoints:
Normal and reverse faults move vertically
Strike-slip faults move horizontally
Most faults have either a dominant vertical or horizontal component but also possess variations between pure vertical or pure horizontal.