Japan's Earthquakes & Tectonic Setting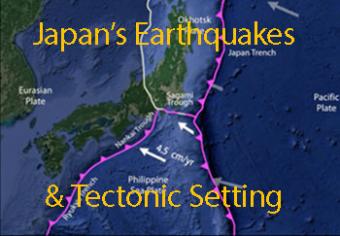 Why is the tectonic setting around Japan so complicated?
Earthquakes, volcanoes, and trenches all result from Japan being wedged among four major tectonic plates. The Pacific Plate subducts beneath the Okhotsk Plate at the Japan Trench. The Philippine Sea Plate subducts beneath central and southwest Japan at the Sagami Trough, the Nankai Trough, and the Ryukyu Trench. A complex structure accommodates slow east-west convergence between the Okhotsk and Eurasian plates.
Densely populated Japan is at the mercy of both offshore megathrust earthquakes that generate tsunamis and shallow on-shore crustal fault earthquakes that shake vulnerable overlying cities. Because of this, Japan has taken major steps to help mitigate disasters by creating one of the most effective earthquake early warning systems in the world and by engineering and seismically retrofitting their infrastructure (buildings, roads, railways). 96% of citizens successfully evacuated the tsunami inundtion zone during the 2011 earthquake. Tragically, almost 20,000 lives were lost.
CLOSED CAPTIONING: A .srt file is included with the downloiad. Use appropriate media player to utilize captioning.
Keypoints:
This animation addresses:
Regional and local tectonics
Earthquake occurances and historic earthquakes
Crustal fault earthquakes (Kobe, 1995)
Megathrust earthquakes (Tohoku-Oki, 2011)
Tsunamis