Stratigraphy: Geologic history of a region in cross section Open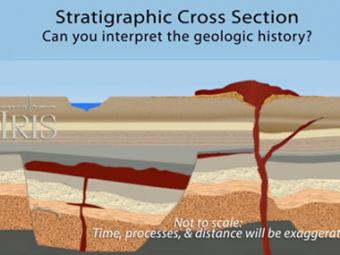 What can road cuts tell us about the geologic history of an area?
Stratigraphy is the branch of geology that studies rock layers; structure includes the faults and folds that result from regional & local forces acting on the area. A hypothetical cross section is studied by going back to the beginning to study its progressive geologic history. Why study rock relations? The earthquake potential of an area can be determined by studying the geologic history of the rock strata, both locally and regionally. Faults and folds record a probable earthquake history, so by studying the age of the rocks and their deformation we interpret past earthquakes and gain an understanding about the potential for future earthquakes. In this animation, no strata are overturned, thus the following laws apply: The law of superposition simply says that for non-deformed geologic strata, sedimentary layers are deposited in a time sequence, with the oldest on the bottom and the youngest on the top. The principle of original horizontality states that rock layers form in the horizontal position, and any deviations from this horizontal position are due to the rocks being disturbed later (the exception being layers deposited on a slope or thick viscous lava flows). The crosscutting law states that if a rock is cut by another rock, then it is older than the rock which has cut it.
CLOSED CAPTIONING: A .srt file is included with the download. Use an appropriate media player to utilize captioning.
Keypoints:
Interpreting the geologic history includes understanding:
Sediment accumulation
Deformation: uplift, subsidence, folding, faulting
Volcanic intrusion and eruption
Erosion