Long Valley Caldera Open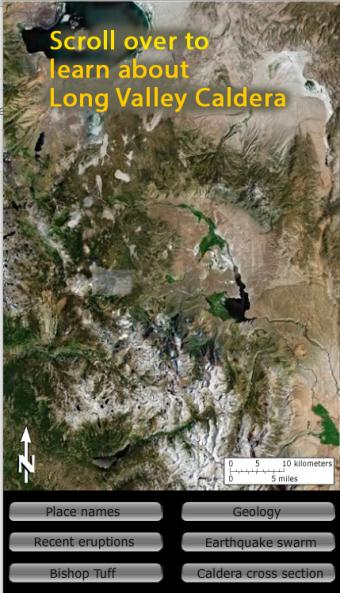 Long Valley Caldera area has had a history of eruptions and earthquake swarms. Learn more with this interactive map that reveals geology, eruptions, earthquakes, and more.
VIEW the interactive in a separate tab, by clicking on "Open Resource" then scroll over named features. (Note some browsers lack the plugins for rollovers.)
IRIS may be discontinuing these interactive animations in 2020. This file is an HTML5 file that uses a browser to view.
Keypoints:
Eruptive products of the region are younger than 1 million years.
The youngest eruptions occurred in the past 4,000 years
A 1980 earthquake swarm was accompanied by ground deformation and uplift
Ash from the eruption of the Bishop Tuff covered much of the Western U.S.