IRIS E&O celebrates the life and work of John C. Lahr (1944-2009). Along with teachers around the country with whom he taught and visited, we recognize his contributions to educational seismology and the legacy that he created. "Influential and giving people like John Lahr live on through the actions of those they have touched. Surely we are better for having known and learned from John Lahr. And we will share his ideas and inspiration with many others, so his goodness and wisdom can multiply into the future" - Robert Butler
Announcing the John C. Lahr Educational Seismology Fund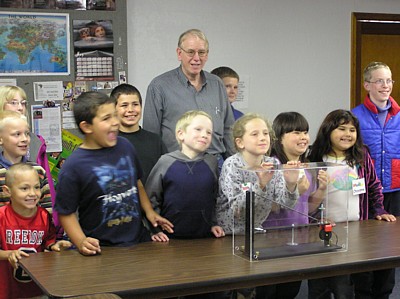 The Lahr family and Incorporated Research Institutions for Seismology (IRIS) are pleased to announce the establishment of a fund to support Seismographs in Schools (SIS), within the IRIS Education and Outreach program. In the last several years of his life, John Lahr became very involved in supporting this program. It was the perfect opportunity for him to use his knowledge and skills in teaching workshops, traveling to schools throughout the country, supporting teachers, and helping to develop equipment and software. John felt strongly that the earth sciences are being seriously neglected in the U.S. educational system, and he was pleased to be a part of a program that is working to correct the problem.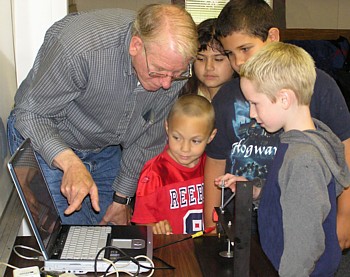 The John C. Lahr Educational Seismology Fund will provide funding toward seismographs and teacher training through the SIS program. Schools and teachers that receive equipment and training through the fund will be expected to show how they will actively incorporate the seismograph into the classroom. Currently, the cost of a seismograph is about $600, and the cost of teacher training is about $950. At present, these services are provided by IRIS through National Science Foundation funding at no cost to schools or teachers, though it is likely this will change in the future. The fund could then be available to provide scholarships. By providing additional resources for the SIS program, the hope is that the fund will enable the program to expand to serve more schools throughout the country. Seismographs that are paid for by the fund will have John's name on them in tribute to him.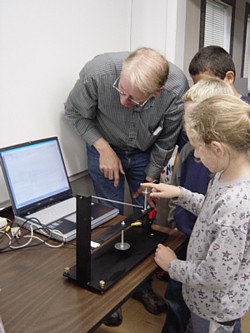 John truly loved working with the Seismographs in Schools program, and he would be honored to know that friends, family, colleagues, and others will be supporting the program through a fund in his name. Please consider making an online donation in John Lahr's memory.
Checks should be made payable to IRIS, Reference John C. Lahr Seismology Fund, and mailed to:
IRIS
1200 New York Avenue NW, Suite 400
Washington, DC 20005
Attn: John Lahr Seismology Fund
Some celebrations of John Lahr's life and his contributions
John C. Lahr, A tribute to the "Gentle" Scientist
John's World photo mosaic by Nils Lahr
Seismic data archive in honor of John Lahr