2015 Field Activities Start in Alaska and Northwestern Canada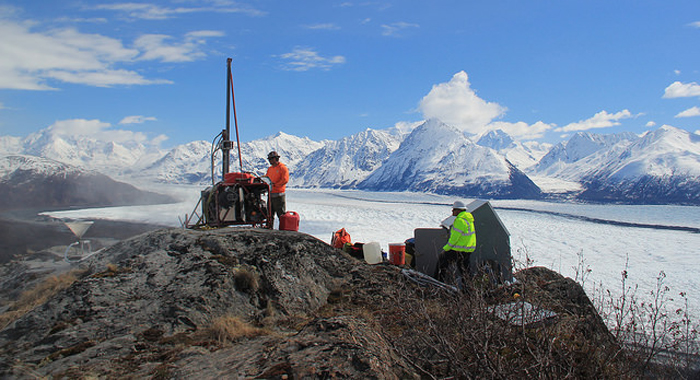 The helicopter-portable drill system on site in Alaska.
Earlier this spring, the Transportable Array team headed to the field to begin this year's deployment in Alaska and Northwestern Canada. Plans for this season include the installation of more than three dozen new stations and upgrading of nearly four dozen existing stations.
Unlike the Lower-48, where roads and highways criss-cross the land making it relatively easy to access Transportable Array sites by truck, the lack of roads and the challenging weather and environmental conditions in Alaska and Northwestern Canada required the development of new methods and equipment. The design of these remote high-latitude stations consists of the emplacement of a seismometer in a cased hole 3 to 15 feet below the surface of the ground and an above-ground insulated enclosure to house the electronics and power system. The cased hole is either augured or cored, depending on the conditions at the specific site, and is approximately 6 to 8 inches in diameter. The insulated hut is secured to a frame anchored to the ground. The frame also serves as the mount for the solar panels.
All of a station's instrumentation, equipment needed to construct the station and the field crew are transported to remote sites in Alaska and Northwestern Canada by helicopter, fixed-wing aircraft, or boat. A helicopter-portable drill system was developed especially for the Transportable Array to create a cased hole in a wide variety of ground conditions – from solid fine-grained rock, to highly fractured surfaces and shale, to gravel and cobbles. The system is self-contained and includes two motors, an air compressor, hydraulics, a boom and drill motors. It meets the design weight of 1300 lbs, including tooling, fuel and oil (<500kg for the drill itself).
Data recorded by the sensors are transmitted to the archive at the SAGE Data Management Center via cell modem, radio links, or a satellite link and are forwarded immediately to the US Geological Survey's National Earthquake Information Center in Golden, Colorado, the Alaska Earthquake Center at the University of Alaska Fairbanks, the Canadian Hazard Information Service in Ottawa, the Alaska Volcano Observatory, and the National Oceanic and Atmospheric Administration's Tsunami Warning Center. The data are used by scientists to create images of the deep structure of the Earth and for improving earthquake and tsunami warning systems, hazard mitigation and other purposes. All of the data are free and available to anyone with an internet connection and are used by hundreds of researchers worldwide.
| | |
| --- | --- |
| | |
| Installation of Transportable Array station N25K near Chitina, Alaska in October 2014. | Drawing of station design for sites in Alaska and Northwestern Canada. |
Additional Resources
Visit the Transportable Array Deployment to Alaska and Canada web page
Watch a video of the drill operation (approx. 11½ minutes)
View a time-lapse video of the test station installation at Eagle Plains, Yukon, Canada (approx.. 18 minutes)
Read about related seismology research in Alaska
Get more information about the Transportable Array deployment in Alaska and Northwestern Canada
Look at data recorded at any operating Transportable Array station
---
Published on Jun 8th, 2015
Archived Stories