First EarthScope Transportable Array Station Installed in Virginia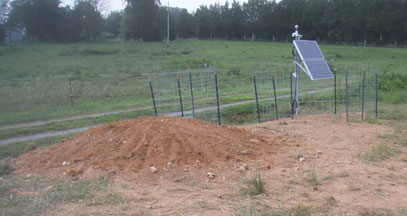 EarthScope Transportable Array Station R58B in Mineral, Virginia.
On August 8, EarthScope installed its first seismic station in Mineral, Virginia, near the epicenter of last year's magnitude 5.8 earthquake. This Transportable Array station, R58B, is a complement to other seismic stations in the area and is capable of detecting small regional aftershocks as well as earthquakes of about magnitude 5 occurring anywhere in the world. Both a high-quality broadband seismometer and a strong motion accelerometer were installed. The station will operate for about 2.5 years. In Spring 2013, an additional 18 stations will be installed in Virginia when the Transportable Array blankets the Mid-Atlantic states. To view the the most recent 24-hour seismogram at Station R58B or any other operating EarthScope seismic station, click here.
Because of the station's proximity to Washington, DC, the installation was observed by a small group of visitors including the Virginia state geologist, geoscience researchers from James Madison University in Harrisonburg, Virginia, and staff from IRIS Headquarters.
Installation of the EarthScope seismic station R58B in Mineral, Virginia.