Geophysicist Robert Detrick Named NSF Division Director for Earth Sciences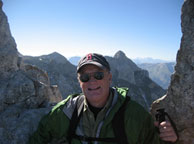 The National Science Foundation (NSF) Directorate for Geosciences has appointed Robert Detrick of the Woods Hole Oceanographic Institution (WHOI) as its new director of the Division of Earth Sciences. He will begin his NSF position on Nov. 3, 2008.
Detrick is currently a senior scientist and vice president for Marine Facilities and Operations at WHOI. As a geophysicist and seismologist, his research interests include the seismic structure and evolution of oceanic crust; the size, depth, and physical properties of ridge crest magma chambers; the nature of mantle flow beneath mid-ocean ridges; and the relationship between the seismic structure of oceanic crust and the geology of the crust.
From 2005-2007, Detrick served on the IRIS Global Seismographic Network Standing Committee. He was a member of the IRIS Data Management System Standing Committee from 2001-2003.