Wendy Bohon to Engage Attendees as STEAM Superhero at Comic-Con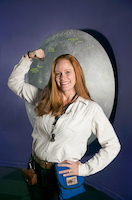 Wendy Bohon, Sr. Science Communications Specialist at IRIS and an AAAS IF/THEN® Ambassador, will inspire the next generation of scientists as a STEAM Superhero at the IF/THEN® Comic-Con Takeover being held in San Diego, California from Thursday, July 21 through Sunday, July 24, 2022.
Comic-Con is an annual international multi-genre entertainment event that showcases comics as well as a wide range of popular art forms including science. During the four-day event, Comic-Con attendees and the general public will have an opportunity to meet and hear about the career paths of women scientists and engineers who are incorporating art and other unconventional methods to teach and communicate science. Bohon and the other selected IF/THEN® Ambassadors representing a variety of scientific disciplines will participate in a STEAM Fair, Splash Talks, and panel presentations and will appear at both Comic-Con and at the Comic-Con Museum.
Each day from 10:00 a.m. to 2:00 p.m., the IF/THEN® Ambassadors will perform experiments and activities with visitors at the STEAM Fair in the Comic-Con Museum. Bohon will be demonstrating the 'earthquake machine,' a mechanical fault model that illustrates the occurrence of earthquakes. She will also be taking part in a STEAM Fair Splash Talk on Friday, July 22 from 12:40 pm to 1:00 pm to speak about science careers. In addition, Bohon will participate in a Mission Unstoppable panel discussion on Thursday, July 21 from 10:00 am to 11:00 am and in the Representation Matters panel on Saturday, July 23 from 2:30 pm to 3:30 pm to discuss actions that can be taken to address the lack of diversity, equity, and inclusion in STEAM careers.
IF/THEN®, a national initiative of Lyda Hill Philanthropies, seeks to further women in science, technology, engineering and math (STEM) by empowering current innovators and inspiring the next generation of pioneers. Key to the IF/THEN® Initiative was a partnership with the American Association for the Advancement of Science (AAAS) to select 125 AAAS IF/THEN® Ambassadors. They are women who represent a diversity of STEM fields, backgrounds and career paths who engaged in professional development and implemented grant projects as part of the "She Can Change the World" public engagement initiative.