IRIS to Participate in NASA's New Program to Mars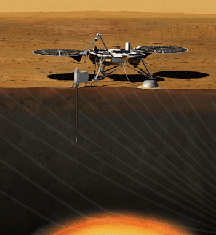 IRIS is one of the lead partners for education and public outreach for the recently announced NASA InSight mission to Mars. The new InSight mission, set to launch in 2016, will take the first look into the deep interior of Mars to see why the Red Planet evolved so differently from Earth as one of our solar system's rocky planets.
The mission will place instruments, including a seismometer, on the Martian surface to investigate whether the core of Mars is solid or liquid like Earth's, and why Mars' crust is not divided into tectonic plates that drift like Earth's. Detailed knowledge of the interior of Mars in comparison to Earth will help scientists better understand how terrestrial planets form and evolve.
IRIS Education and Public Outreach staff will help develop a variety of educational products related to seismology on terrestrial planets, and the IRIS Data Management System will provide public access to the seismic data collected on Mars.
InSight will carry four instruments. The Jet Propulsion Laboratory will provide an onboard geodetic instrument to determine the planet's rotation axis and a robotic arm and two cameras used to deploy and monitor instruments on the Martian surface. The French space agency Centre National d'Etudes Spatiales (CNES) is leading an international consortium that is building the seismograph. The German Aerospace Center is building a subsurface heat probe to measure the flow of heat from the interior.
More information about the mission can be found on the InSight web site.